Instant messaging app WhatsApp mobile app is rolling out 'Delete for Everyone' feature for all users. Earlier this, the company rolls out the feature to selected users for the test purpose. The 'Delete for Everyone' feature that allows users to delete sent messages from your mobile app. Moreover, the user will now able to retrieve messages sent to individual chats as well as WhatsApp groups.
The company introduces the feature on android, iOS and as well as for the Windows Phone.
It commonly happens when you send a WhatsApp instant message to a wrong chat or group and sometimes, the message may have mistaken that by mistake sent to other chat that was a one of the issues that the users are facing for a long time. Now, the company solves the issue with introducing 'Delete for Everyone' feature that is the one of the major updates the company rolled out.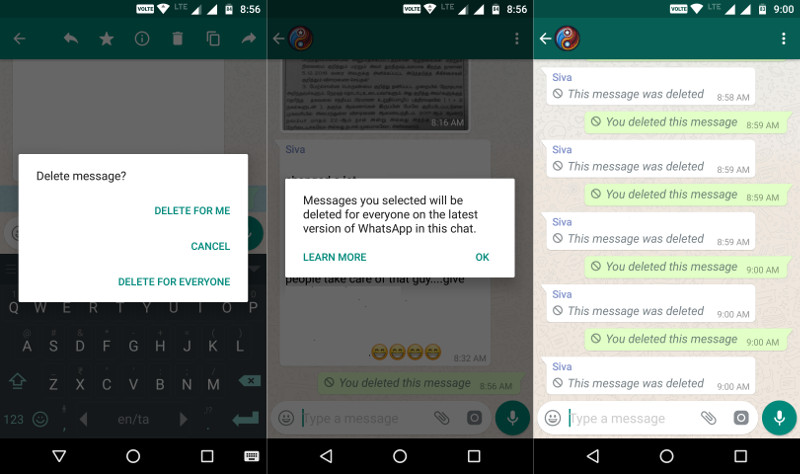 When a user will take action to delete the messages for someone, the recipient of the chat will receive a notification stated as "This message was deleted". The sender and receiver can be seen this confirmation message from the WhatsApp service. Here are some simple steps to get WhatsApp 'Delete for Everyone' feature and its working, you have to follow given below steps!
Make sure you the latest version of WhatsApp is downloaded on your phone. The recipient must also have the latest version installed for the Delete for Everyone feature to work.
Select the message(s) you want to delete
Tap the delete/ trash icon on the screen
Now the dialogue box will show the new option Delete for Everyone
Once you hit the Delete for Everyone dialogue box, the sent message will be replaced with "You deleted this message"
If you already the latest version and enjoying the Delete for Everyone feature, share your experience with us by leaving comments in the comments section given below!